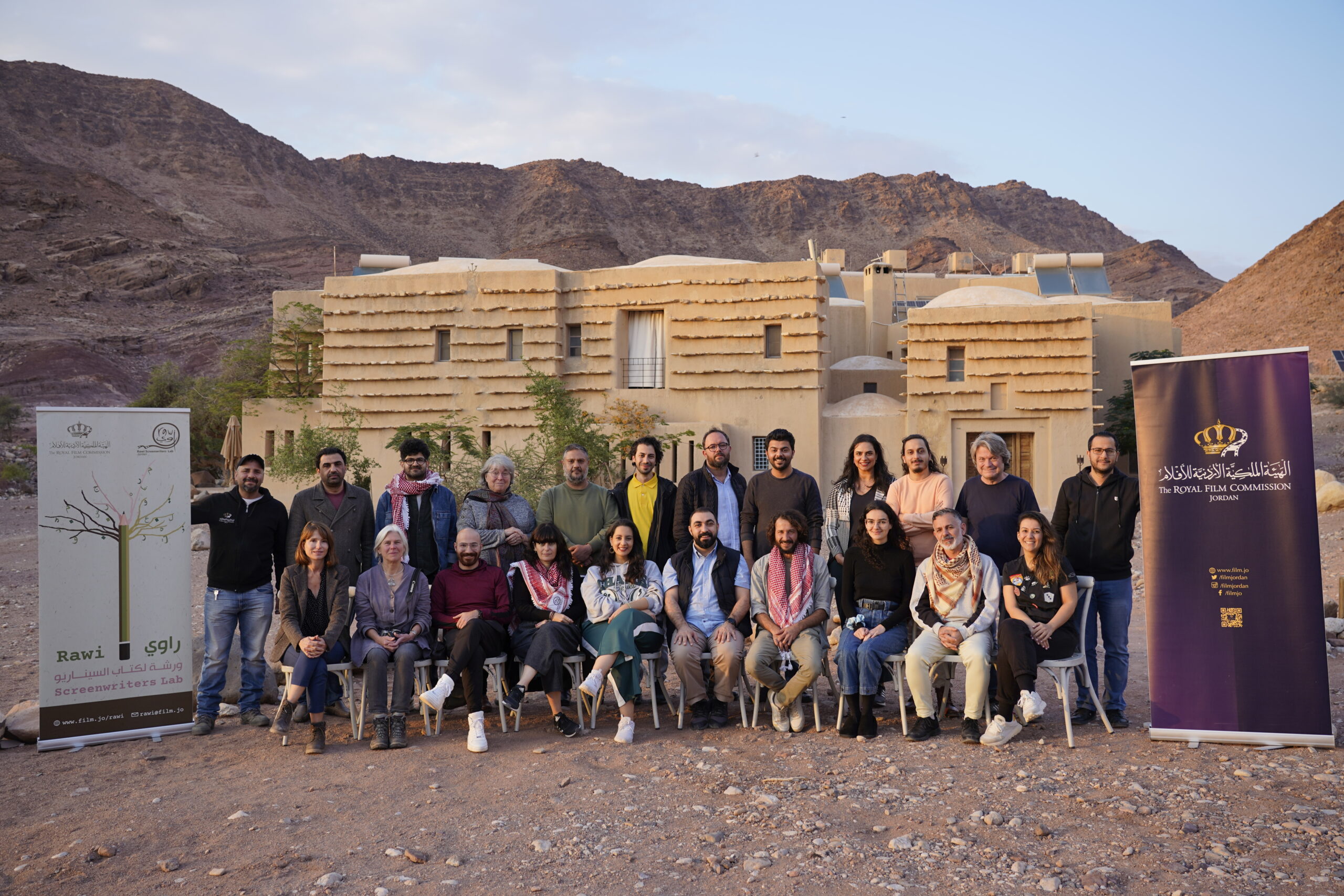 Amman-Al-Ghad- The seventeenth session of the "Narrator" workshop for Arab screenwriters was concluded yesterday, with the participation of eight Arab screenwriters (Rawi participants), who worked intensively on developing scenarios for their long-form projects over a period of five days.
The Royal Film Commission-Jordan organized a "Narrator" workshop from November 25 to 30 in Wadi Feynan, located in the southwestern side of the Dana Reserve. The lab activities were held in a calm and inspiring atmosphere that stimulates creativity and dialogue at Feynan Ecolodge.
The Commission had opened the door for acceptance to receive long project scenarios between January and April of this year, and eighty qualified applications had been received. A panel of creative consultants carefully reviewed all applications and selected the final projects after extensive evaluations and interviews.
The workshop hosted eight eminent screenwriters (Rawi's creative advisors), from around the world, to work with Arab screenwriters, advise them and share their experiences in order to unleash their writing potential.
Rawi participants met with counselors in intense one-on-one meetings to consider and refine scenarios with the goal of telling stories in the most compelling way possible.
Muhannad Al Bakri, Director General of the Royal Film Commission, commented on this year's Rawi workshop, saying: "Rawi's distinction lies in empowering the participants' voices as storytellers rather than dealing with technical solutions to this craft; The stories emerge from the experiences of Rawi's participants and their surroundings." He added, "The diversity of creative consultants in terms of gender, backgrounds, experience and filmmaking styles is essential. The advisors' sense of responsibility and generosity in providing knowledge to the participants are key factors for the success of the workshop. We are grateful to them and appreciate their contribution."
This year's team of creative advisors consisted of: Ahmed Amer (Egypt), Bernd Lichenberg (Germany), Juliano Dornells (Brazil), Margaret Glover (UK), Nadia Oleewat (Jordan), Sharon Doyle (USA), Tonya Michaeli (Cyprus) and Yasmine Ostoglou ( Turkey).
Giuliano Dornells, a filmmaker, production designer and screenwriter, shared his impressions, saying: "Coming here is a wonderful adventure, especially meeting many people to talk about cinema and discuss various and different stories from this region, yet familiar on a human level."
For her part, award-winning director Yasemin Otoglu, who is participating as a creative consultant in Rawi for the second time, said: "Being in a remote natural area teaches you a lot and gives you a different outlook on life. The projects I worked with were diverse in terms of country, story or style, but we were able to understand each other very well and I think I helped the participants open up to new ideas."
As for the projects and participants in the 17th edition of Rawi, they are: "A Red Bus in Baghdad" by Ali Saeed (Iraq), "Al-Masha'a" by Firas Taibah (Jordan), "Miss Camp" by Hanadi Alyan (Jordan) and "Loris" by Muhammad Samir (Egypt). ) and "Sinking" by Mojtaba Saeed (Saudi Arabia), "Sh and SMC" by Nour Al-Mujbar (Lebanon), "Horia Street" by Sharon Hakim (Egypt), and "Palestinian Jesus" by Suhail Dahdal (Palestine). Regarding her participation in the workshop, Hanadi Elyan said: "All the creative mentors were interested in helping me and concerned that I could make my project a success in my own way, without imposing their opinion or style. I also found that watching and discussing the films of other participants and creative mentors together was beneficial."
As for Mojtaba Saeed, he said: "The nature of the place and its isolation have a role in the success of the program, but the design of the professional program and providing a safe place for expression has the greatest role. The narrator of a unique and rich experience that I would recommend to all Arab writers and filmmakers."
The door to receive applications for participation in the next session of the Rawi workshop will open in early 2023.
"Writer. Communicator. Award-winning food junkie. Internet ninja. Incurable bacon fanatic."