Huawei Consumer Business Group today announced the launch of its latest budget tablet, theHUAWEI MatePad SE Full screen display 10.4 inches accurately 2k With a screen-to-body ratio of 83%, a light weight of only 440 grams, and a powerful 6nm octa-core processor. Qualcomm Snapdragon 680 And experience surround sound tuned by Huawei Histen 8.0.
Device comes HUAWEI MatePad SE The tablet is equipped with a Huawei FullView Display 10.4 inches accurately 2k Easy on the eye, which has passed certificationTÜV Rheinland For low blue light and a flicker-free screen to relieve eye strain. The screen-to-body ratio of 83% provides an immersive view, and the lightweight body of 440 grams features a sturdy medium frame that ensures lasting use. The tablet body has passed a series of rigorous extrusion tests and is more than equipped to handle the occasional mishaps of everyday life. New smart capabilities make your device HUAWEI MatePad SE tablet super device Super Device Every member of the family benefits from it.
Wide screen, easy on the eyes


The Huawei FullView Display comes with a resolution of 10.4 inches 2k With a screen-to-body ratio of 83%, and a display resolution of 2kand a density of 225 pixels, which provides a clear and vibrant view.
Plus, 4096 levels of brightness adjustment change in real time to account for ambient light conditions and keep eyes fresh every moment. you get a device HUAWEI MatePad SE tablet on u certificatesTÜV Rheinland For low blue light and a flicker-free screen to relieve eye strain.
Powerful 6nm octa-core processor


device is equipped HUAWEI MatePad SE tablet with chipset Qualcomm Snapdragon 680 Octa-core 6 nm, four performance cores Cortex A73 2.4 gigahertz, four cores Cortex A53 1.9 gigahertz. The energy efficiency ratio has been improved (EER) and multiple kernel-oriented optimizations have been implemented to ensure a smooth experience. The tablet features low power consumption and continuous output performance, providing unparalleled entertainment and great audiovisual performance. In addition, the tablet comes HUAWEI MatePad SE with RAM (RAM) with 4GB plus 128GB internal storage for smooth processing.
Surround sound tuned by Huawei Histen 8.0


The device comes HUAWEI MatePad SE The 10.4-inch tablet packs two speakers into its slim body, which generate sound from both the left and the right, to provide an immersive listening experience. Is characterized by Histen 8.0 With auto-adaptive, context-based and fine-tuning audio effects, which model frequency range and volume, and supports crystal clear sound enhancements.
The device works HUAWEI MatePad SE The tablet improves sounds and makes cinematic dialogue, short videos, online courses, and video calls completely enjoyable. A unique center channel human voice extraction algorithm makes vocals stand out. Even better, the tablet uses a layer-by-layer algorithm to identify application types and automatically adjust speaker sound effects, preserving the original sound without you having to lift a finger.
Through intelligent scene recognition, the tablet provides optimization solutions for users' various sound effects requirements in different scenes. For example, users tend to expect immersive stereo sound and resonant bass effects while watching movies, listening to popular music heavily, and like to stay alert to every slight change while gaming.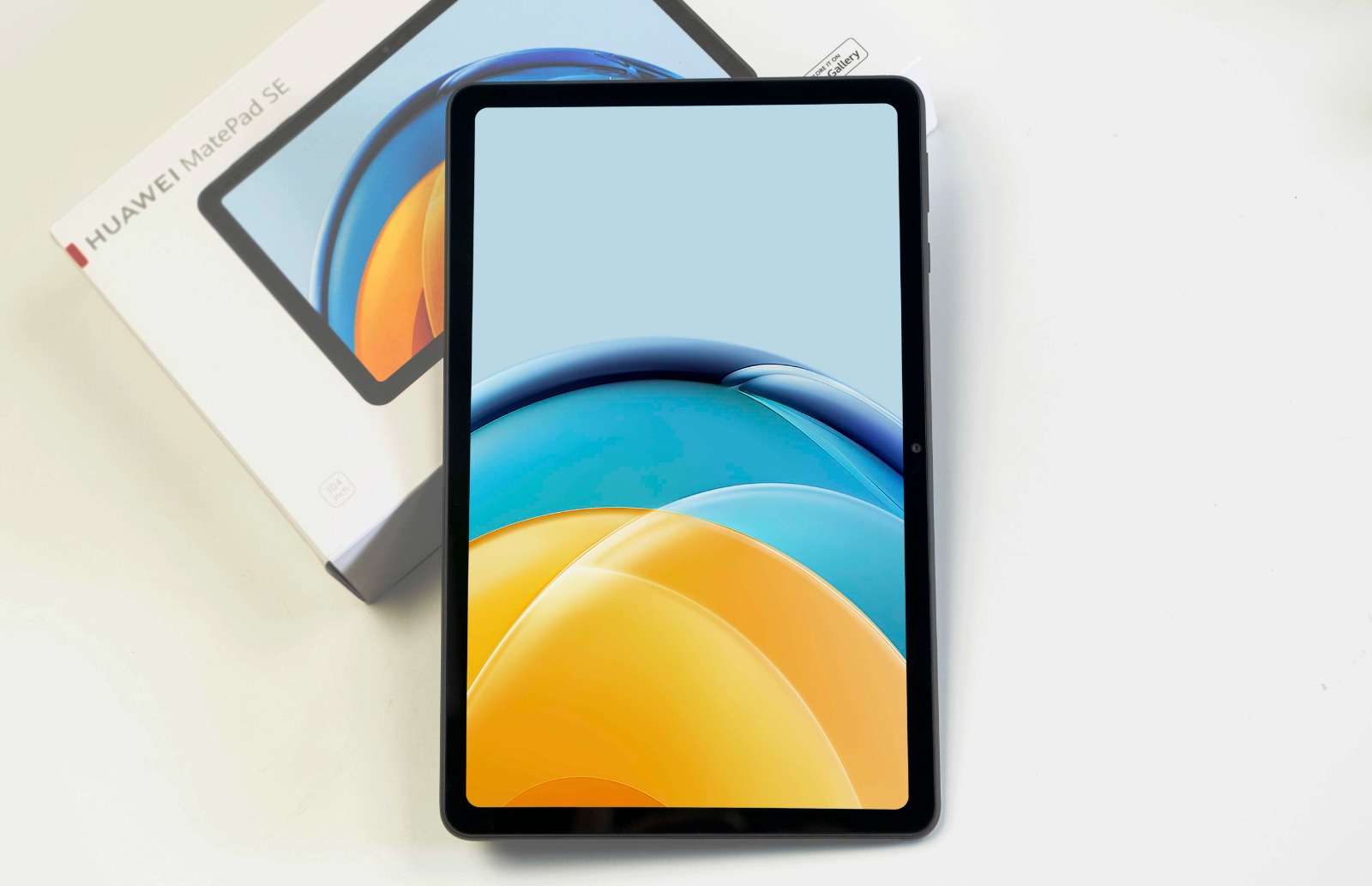 Super Device features


The device comes HUAWEI MatePad SE Tablet packed with super device features – Super Device That allows you to manage your devices and connections from one place and even share devices between accounts, making cross-device operations easier than ever. The tablet allows users to connect with a pair of earphones HUAWEI FreeBuds Simply by dragging the corresponding icons. For example, drag and drop is all it takes to switch the tablet's sound to the Huawei earbuds.
The tablet provides a seamless user experience with stackable service widgets of the same size and different sized service toolkits and shortcuts, for easy access to your favorite content and features. feature works Multi-Window The all-new tablet turns your tablet into a multitasking tool by supporting up to four simultaneous tasks. give you an advantage App Multiplier New and Improved Unlock up to four running tasks within a single app.
childcare


Children need tablets to help understand the world and learn new things, but at the same time, children may lack the self-control to limit their screen time. Designed for children to use at home, Kids Corner provides time control, multiple eye protection, and a balance of education and fun, such as drawing board, recording, and photographing. In addition, several Kids Corner theme interfaces, which work with multiple eye protection and time control interfaces, are designed to reassure parents that their children will be safe and having fun while using the tablet.
Additionally, parents can manage usage time, apps, and content in Kids Corner, allowing them to set multiple specific time slots throughout the day. For example, parents can set it so that their children can use the tablet for a maximum of 20 minutes after school between 5pm and 6pm, or after dinner between 7pm and 9pm. They can also apply different settings for the weekday versus the weekend, so that the tablet provides the perfect balance between study and play to meet different needs. In Manage apps, parents can define which apps kids can access and which videos and photos kids can see in Manage Content.
Stylish and simple appearance


device is made HUAWEI MatePad SE The plate is made of aluminum alloy, which is applied by an anodizing sandblasting process, to produce a breathtaking metallic sheen. Designed with a focus on the future, the tablet is an ode to classic symmetrical aesthetics, making it the perfect addition to any home. As a home tablet, the tablet weighs just 440g and is comfortable to hold. Its durable body has been tried and tested to withstand drops and extrusions, so that minor accidents and drops will not crack the screen or deform the body, making the device especially suitable for children.
Device features HUAWEI MatePad SE The 10.4-inch tablet has a new, high-performance antenna design to improve the ability to receive signals. Compared to other tablets of the same level, the tablet features better network connectivity even when the signal is weak or there are multiple devices on the network.
"Proud explorer. Freelance social media expert. Problem solver. Gamer. Extreme travel aficionado."