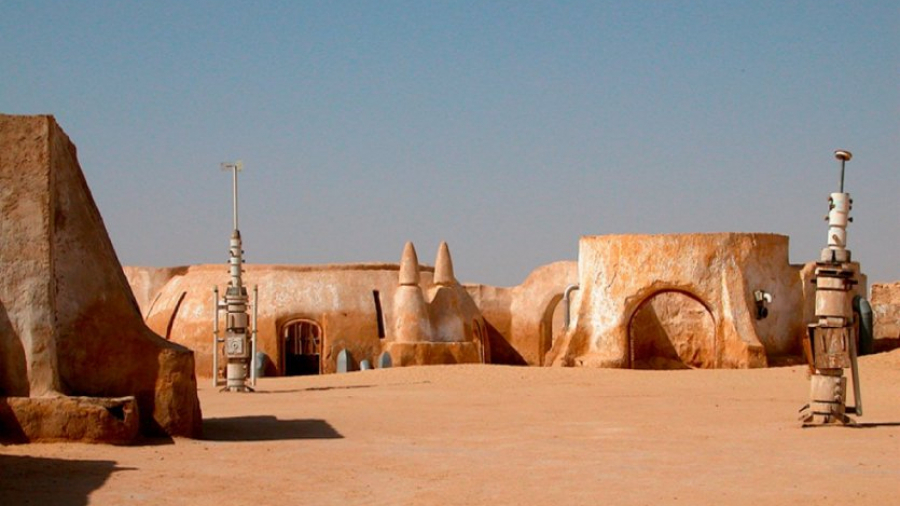 Over the past two days, the municipality of Nefta from Tozeur, with the support of fans of the movie "Star Wars" and the German Cooperation Agency, intervened to maintain one of the filming sites, which is the decoration located at the 10 kilometer point between Nefta and Hazwa, as it is one of the tourist attractions, in addition to the filming site of the camel's neck In the same city, according to the mayor of Nefta, Mourad Lasoud.
Mourad Lassoud said in a statement to the Tunis Africa News Agency, that climatic factors, especially wind gusts, constantly affect the decor of the movie "Star Wars", and it has been restored to its old shape, in addition to the intervention of the municipality, with the support of the Tozeur regional council, to maintain and restore the film's filming location. Banaq El-Gamal, the most famous location among a group of locations that witnessed the filming of the film.
He stated that the intervention was carried out annually due to the climatic factors that lead to the erosion of the film's decor, noting that the intervention was also done once a week to clean the site due to the presence of plastic waste.
He stressed the municipality's endeavor to intensify cleaning operations to be daily, with the support of the German side, after signing a framework agreement soon to maintain the site.
A number of activists on social networking sites and professionals in the field of tourism, recently published pictures confirming the miserable condition of the site, especially with regard to hygiene.
"The solution is to justify the space for one of the investors…"
He pointed out that the solution to taking good care of the space is justified by one of the investors, stressing that the municipality is preparing an international consultation to justify the tourism space in Anq Al-Jamal while preserving its privacy in accordance with the legal procedures in force, provided that the field is opened to Tunisian and foreign investors.
He pointed out that justification in the form of an obligation is the best solution, given that it cannot be exploited within a public-private partnership, stressing that the municipality has received offers from French and American companies for this purpose, but that it will give everyone the opportunity to compete.
"Proud twitter enthusiast. Introvert. Hardcore alcohol junkie. Lifelong food specialist. Internet guru."